Welcome to the latest e-newsletter from Cleaning Matters.
To explore the key issues and solutions in hospital and healthcare cleaning and hygiene, Cleaning Matters magazine has partnered with the Association of Healthcare Cleaning Professionals (AHCP) to gather opinions in an online survey.
It only takes a few minutes to fill out at:
www.surveymonkey.co.uk
and all participants will be entered into a draw to receive £100 Amazon vouchers.
Read the full story right along with a selection of the latest news and products from
cleaning-matters.co.uk
.
Catherine Hackett
Editor
chackett@western-bp.co.uk
Editor's Blog
LATEST ISSUE
CLEANING MATTERS SPECIAL REPORT
LATEST NEWS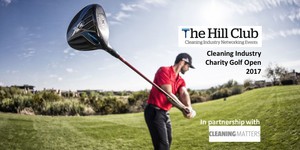 Tee up for the 2017 Cleaning Industry Charity (CIC) Golf Open
It's not too late to secure your place at the 2017 Cleaning Industry Charity (CIC) Golf Open, which takes place at Kingswood Golf Club on 11th May! The popular annual event is hosted by The Hill Club - the exclusive cleaning industry networking event organisation - in partnership with Cleaning Matters, the industry's leading media publication.
Read more
or
Visit website
PRODUCTS & SERVICES
New director of engineering at ICE
Industrial Cleaning Equipment (ICE) are delighted to announce the appointment of Neil Jacobs as their new director of engineering. Neil's primary focus areas will be customer satisfaction, employee engagement, continuous improvement and ensuring that safe & efficient working practices are adopted throughout.
Read more
or
Visit website
Complete hard floor system
"If you do as you have always done you can expect what you've always got", as a colleague of mine is fond of saying. Tomcat UK find this translates to cleaning in the form of stagnated results and performance with the same level of consumables spending.
Read more
or
Visit website