Welcome to the latest e-newsletter from Cleaning Matters.
A new global study by Initial Washroom Hygiene has found that 73% of Brits say an unpleasant smell in the washroom would negatively affect their perception of a venue, with almost two thirds of respondents saying that a bad smell would make them less likely to spend money with that company.
Read the full story right along with a selection of the latest news and products from
cleaning-matters.co.uk
.
Catherine Hackett
Editor
chackett@western-bp.co.uk
Editor's Blog
LATEST ISSUE
CLEANING MATTERS SPECIAL REPORT
EVENTS
The Health & Safety Event
NEC, Birmingham
10th - 12th April 2018
The Facilities Event
NEC, Birmingham
10th - 12th April 2018
The Fire Safety Event
NEC, Birmingham
10th - 12th April 2018
Safety & Health Excellence Awards
VOX, Birmingham
11th April 2018
Maintec
NEC, Birmingham
6th - 7th November 2018
INTERCLEAN Amsterdam
RAI Amsterdam, Netherlands
15th - 18th May 2018
LATEST NEWS
PRODUCTS & SERVICES
Evans solution to our plastic problem
For almost 100 years Evans Vanodine has been offering chemical solutions to real world problems, from bactericidal hand soaps to kitchen disinfectants. Evans is also committed to helping customers reduce their impact on the environment, by reducing their use of plastic.
Read more
or
Visit website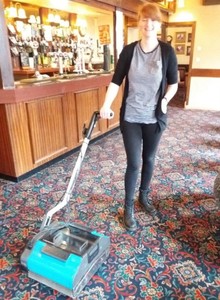 Could this be a record?
Wythall Community Association purchased their Duplex 420 back in 1993 and it's still going strong 25 years later! Duty Manager, Jess Denning said "we get the Duplex floor cleaner out for the bigger jobs when we know the floor has got a little too dirty for other machines as it will clean the carpets and bring the pile back to life".
Read more
or
Visit website