Welcome to the latest e-newsletter from Cleaning Matters.
Scotland's dedicated b2b event for the Scottish facilities industry, Facilities Scotland, will return to the SEC, Glasgow on the 12-13 September 2018. Facilities Scotland will provide a wealth of networking and educational opportunities to anyone responsible for running a safe and efficient workplace.
Read the full story right along with a selection of the latest news and products from
Cleaning-Matters.co.uk
Catherine Hackett
Editor
chackett@western-bp.co.uk
Editor's Blog
LATEST ISSUE
CLEANING MATTERS SPECIAL REPORT
EVENTS
Health & Safety Scotland
SEC, Glasgow
12th - 13th September 2018
Fire Safety Scotland
SEC, Glasgow
12th - 13th September 2018
Facilities Scotland
SEC, Glasgow
12th - 13th September 2018
Maintec
NEC, Birmingham
6th - 7th November 2018
LATEST NEWS
Deadline extended for Hill Club Awards
The Hill Club has extended the deadline for its annual Awards to 29th June. The awards, which are run in partnership with the Worshipful Company of Environmental Cleaners, were set up to recognise and reward exceptional cleaning operatives. Almost 300 cleaning industry professionals are expected to attend this year's event, which is sponsored by Vectair Systems and takes place at the annual River Thames Summer Cruise on the 5th July.
Read more
or
Visit website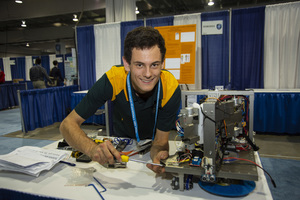 Window cleaning drone scoops international award
Oliver Nicholls, 19, of Sydney, Australia, has been awarded first place for designing and building a prototype of an autonomous robotic window cleaner for commercial buildings at this year's Intel International Science and Engineering Fair, a program of Society for Science & the Public and the world's largest international pre-college science competition.
Read more
or
Visit website
PRODUCTS & SERVICES