Welcome to the latest e-newsletter from Health & Safety Matters.


REGISTRATION is now open for Health and Safety North on 9-10 October 2018 at EventCity Manchester.

The event will have more than 30 hours of FREE CPD accredited content and is co-located Fire Safety North, which also boast additional theatres offering CPD-accredited seminars. With more than 125 exhibitors on offer at both shows these are events not to be missed.

For more information or to register for FREE visit www.healthandsafety/north




FREE WEBINAR TOMORROW!
19 SEPTEMBER

HSM will be hosting a free webinar on How to convince your boss to take health and safety seriously on the 19 September 2018.

The webinar, which is being run in association with Southalls, will start at 10:30am and includes a panel of Ian Hatherly,Operations Director at Southalls Andy Hall, Team Leader at Southalls and Mark Sennett, Managing Editor at HSM magaazine (Host).

Register to attend for FREE now
Click Here to Register



EVENTS
Health & Safety North
Eventcity, Manchester
9th - 10th October 2018
Fire Safety North
Eventcity, Manchester
9th - 10th October 2018
Maintec
NEC, Birmingham
6th - 7th November 2018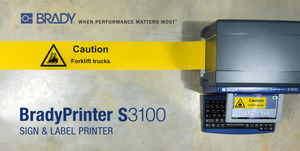 Easily print durable signs
SAFETY SIGNS, floor marking, 5S labels, lean labels, labels to identify racks, doors, stairs, bins, desks and chairs and CLP-labels to identify chemicals can all be printed with the new S3100 at your location whenever you need them.
Read more
or
Visit website