Welcome to the latest eNewsletter from Industrial Plant & Equipment
Interesting survey from EEF - see our top story - where confidence about strong company performance among EEF members contrasts with an outlook for the UK economy where confidence indicators have dropped for the second quarter in succession in response to weak consumer spending and political uncertainty, while inflationary pressures have not completely subsided.
Simon Duddy
IPE Newsletter Editor
sduddy@western-bp.co.uk
AIR USER 2017 - 2018
MM Guide 2016 - 2017
SUPPORTED BY
LATEST NEWS
Exports go from strength to strength
Britain's manufacturers are enjoying buoyant conditions on the back of export markets going from strength to strength according to a major survey published today by EEF, the manufacturers' organisation and accountancy and business advisory firm BDO LLP.
Read more
or
Visit website
Aspen Pumps takes market by storm
Aspen Pumps, the UK's market leader in condensate removal pumps and accessories, is proud to announce the launch of Storm Chemicals, a new range of innovative products designed to clean and maintain Heating, Ventilation, Air Conditioning and Refrigeration (HVACR) equipment.
Read more
or
Visit website
Reducing the pressure
Steve Dennis, managing director of Clean Sweep UK, explains why, whether it is a scrubber dryer or pressure washer, there are real gains to be made by hiring cleaning equipment.
Read more
or
Visit website
PRODUCTS & SERVICES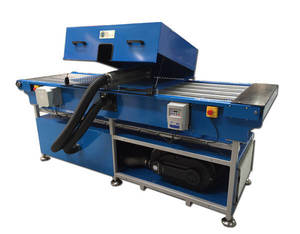 Turnkey conveyor systems
To complement their range of Air Knife Systems for product surface drying and cooling applications, Air Control Industries (ACI) design and manufacture customised conveyors to transport product through the process.
Read more
or
Visit website
Pt100 sensors for industrial use
The use of a platinum resistance thermometer probe in industrial and scientific applications will normally result in good, accurate temperature sensing without the need for special cables (unlike thermocouples). To achieve the best possible accuracy and reliability, care is needed with installation of the probe, connections, and choice of the host instrumentation.
Read more
or
Visit website
Beware non-BCAS members
A survey of compressed air users has revealed that a significant number of those using non BCAS members are dissatisfied and worse 19 per cent could be left non-compliant with health and safety and environmental standards.
Read more
or
Visit website